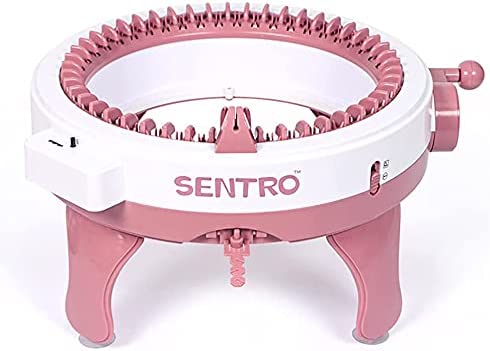 This 48 needle knitting machine is a very fun and practical toy. You can weave anything you want, such as scarves, hat, fabric pieces, socks, etc. Knitting speed is 10 times faster than traditional method.
The new 4th generation Knitting Machine with 48 needles king. This pack contains a full set of crochet, 2 hand pins, 1 wire frame, wool thread (4 bundles of wool, 2 large and 2 small), 1 manual, 1 screwdriver, accessory bag (4 suction cups, 4 screws).
48 Needles knitting machines are v ery suitable for beginners knitter, you can create a flat or round stitch in seconds with hand crank operation. Just thread the yarn into the spindles and turn the crank to knit the type you like.
The perfect gift for your children,friends,and lover. Circular knitting machine. You can make many exquisite handmade gift for your children,parents,relatives and friends.It help Increase parent-child interaction.
If you are going to knit finished products with this machine, just be aware you have to crank relatively slowly and pay attention to the stitches as you go, so you can fix caught or dropped stitches as they happen. There are plenty of YouTube videos on how to do so.
Do not use cheap yarn. This thing drops stitches when I use cheap yarn.