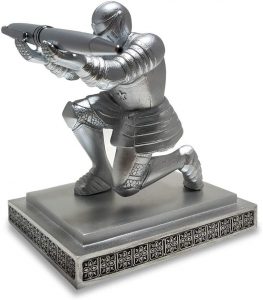 Pen Holder
We have found this great pen holder made out of resin.
It is very suitable for decorating your display cabinet, desk, dining table, living room, bookshelf and any other places you want to add fun to life, as it is very well finished in details.
It's a perfect gift for anyone with a desk!
It's designed to hold any pen or any similar object, like perhaps a cigar.
You can buy this one for only $23.
Be aware that the knight might fall off from the base and you will have to glue it again.